I am SO sorry I have been neglecting this blog. I promised I would post everyday but I have been so busy with school, work, and moving my boyfriend into his apartment, I'm so tired when I come home I just have no drive to go online and post and think about what I am going to write about. I recently have been going through some personal things in my life and to help me cope my boyfriend has promised me to buy me make up little by little. I also recently made a "Make Up Book" which is a book for me to write down ideas of make up I would like to buy that I see other people writing about, what make up I personally need to get, looks that I would like to try on my own, brushes I need/want, and other misc. things. It really has helped me become more organized. So I put everything into my Sephora wishlist (not everything is Sephora that I picked, but it does make it easier to lay out what is and isn't from there for future references) and to my astonishment, my total came to $1498...eek! That is ALOT of make up and brushes and other little things, but hey its SO worth it in my eyes. I also have little things that I would like to get from MAC, Wal-mart, and other misc. websites that I have been doing research on and finding certain things. So, the more I get, the more I will do reviews and the more I will let everybody know the pros and cons of the items I buy. As we all know, make up costs money and the first thing that comes first and foremost in my life is my car payment so be patient as I really am trying to make my collection grow, ever so surely!
With that said, I do have one review that I would LOVE to talk about, and that is the Sephora Daily brush cleaner. One thing about make up is that you have to wash it every once in a while. If you don't, bacteria can grow in our brushes and make up can get dirty and cause us to get pimples and acne in places we don't want. I had been looking for a brush cleaner for awhile and could not find one to save my life. I finally went on the Sephora website to find one and low and behold I did. I put it on my favorites and that night my boyfriend surprised me with a trip there so we all know I was game. I got there and found this bottle, it IS the travel size bottle because I didn't want to buy the full size one if I got home and didn't like it. It was $6 and SO worth it. I came home and whipped out all my brushes that I have been using and sat on my bed and got ready haha.
It says to use a linen free cloth, but I just got some toilet paper and it worked fine. You spritz 3 or 4 times on your brushes and just rub until you see no color coming out of your brushes. Let me tell you how freakin' dirty my foundation brush was. HOLY mother of god. I must have been sitting there for 20 minutes trying to get all that crap out. Also, you would think the smell would be so gross considering it IS a brush cleaner but it made my brushes smell SO good. Also, after I cleaned them and left them out overnight (which it says to do) the next day when I went to use my brushes they were SO soft. I am so glad I spent the meesly $6 on this brush cleaner and I'm sure I will try other ones in the future, but for now this will do the job. You can get the bigger version for $10 and they also have what is called a brush shampoo which is basically the same thing but just a deeper clean.
All in all I am most definitely giving this product a 5/5. It does its job and it does it well and it doesn't hurt that it makes the brushes feel soft and smell great on top of it!!
Here is a picture of the actual brush cleaner. Like I said, this is what they call the "trial" size. The bigger version is actually believe it or not a lot bigger.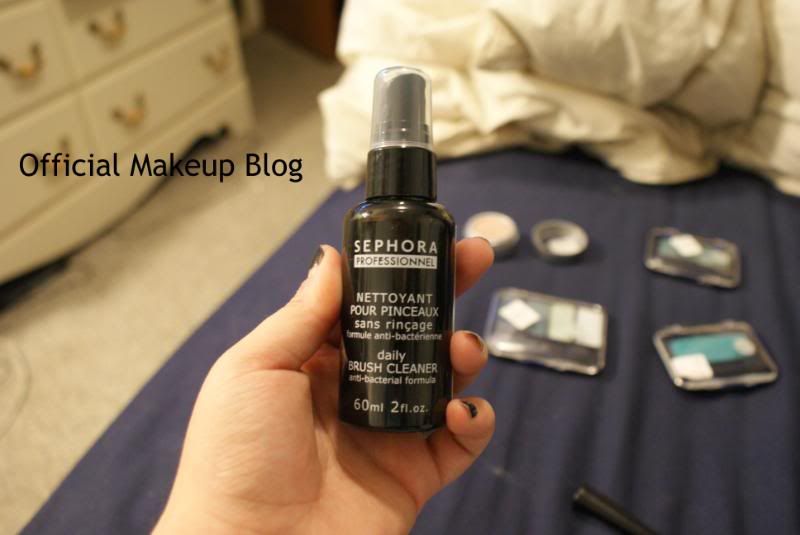 My dirty brush. You can see some teal eyeshadow on there haha so we know it's ready to be cleaned!! Spritz some brush cleaner on this bad boy..
Then in a windshield wiper motion, start cleaning your brushes. After a couple swipes you will have a nice, clean smelling brush.