So last night my boyfriend was supposed to sleep over but he got sidetracked and ended up making plans with his friends, fine with me since I actually got to go to bed early since I was exhausted!! He called me later on and was like we are going to CVS so you can get your make up brushes tomorrow, be up at 9. I didn't even have time to say yes I was so excited. So today I was up bright and early (even though 9 is not bright and early haha) and went to CVS. There was actually more stuff going on sale but I'm gonna go on Monday and get some stuff. I ended up getting the Essence of beauty concealer brushes. You get one full size concealer brush, and a fine concealer brush, and they are only $4.49. Even though these brushes are from a pharamacy, they are by far the softest brushes ever. I can tell that I'll be rubbing these on my face thats how soft they are. They are great for people who can't afford MAC brushes (which can get up to at least $32 a brush). They work very well and get the job done.
I am also going to be going to KMart soon to try out a new brand in brushes they have there. Its called "Posh" and they are red and black brushes. I am a sucker for great color schemes in brushes and red and black are seriously my colors so we'll see. I also tried out a look today that I was thinking about and I will definitly be sharing that with everybody very soon. So please guys if you want a great deal get to CVS, seriously. They are having some awesome deals lately!!!
Here are the brushes in the package without me opening them..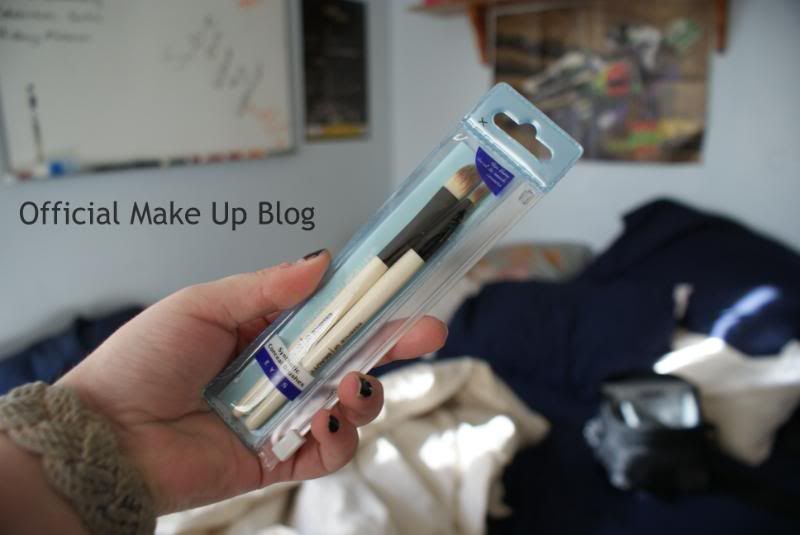 Here is the fine conceal brush..(you can also see the size of the brush within my hand)
And the full size concealer brush..
And both of them in my hand..