Alright girls. We all know what make up remover is and if your me you'll realize it's a god send. Sometimes soap and water just won't do it and sometimes it actually irritates my eyes from me rubbing to hard to try to get all my make up off. I do have a couple other different make up removers, but this is the one that I keep in my make up bag for overnight trips and in the mornings if I'm just to tired to wash my face and do it in the morning.
This review is on the Clinique "Take the day off" (such an ironic name huh?!) make up remover. You can use this for your eyelids, eyelashes and believe it or not your lipstick/lipgloss. This little doosey of a make up remover comes in a plastic purple bottle. You can get ones with flip up tops but I think because mine is a little older and I've had it for awhile, I have a plastic twist off one. I don't know if they still make these ones or not. This make up remover is honestly a great product. It gets rid of all my eye make up basically in a couple of swipes and my eyes don't hurt from me rubbing hard to try to get all my make up off at the end of the day. I usually grab a cotton ball (I use cotton balls because they are SO much softer than using toilet paper which I know some people do. I suggest against this because its kinda rough on your eyes and you could have it flake and then you have to pick up the flakes, etc. You get the idea) So, I grab my cotton ball and put it on the top of the bottle and turn it upside down for no longer than a second. I always have just enough to get all my eye make up off, and not to much which is good. Then just swipe away and get all the remains on that make up off!
What my review thinks..
Pros:
It seriously gets all my make up off, no lie. Usually it takes awhile with the mascara and it ends up smudging everywhere but not with this. You get it all basically in a couple of swipes which I love because at the end of my day the last thing I wanna do is sit there and try to get all my make up off, I just wanna go to bed!!
Cons:
Even though it is a great product, it is just a little bit oily. At first it feels like I'm putting oil on my face and once I'm done getting my make up off, I'll sometimes turn the cotton ball over and use the dry side to dry my eyes a little bit. A little bit goes a long way with this product so I guess that could be a good and bad thing in this situation!!
You can also buy this product at any major department store where Clinique is carried. You can
NOT
get this product at Sephora for some reason. I just did a search and they do not carry make up remover in Clinique for some reason. But, here is a picture for reference if you ever decide to try this product out!!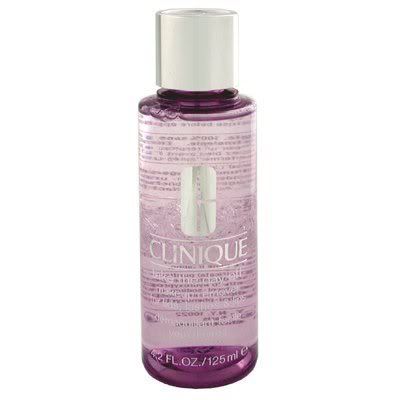 And a picture of my actual make up remover so you can see that I have the plastic twisty top on mine.