So yesterday was such a lazy day for me. I didn't have work so I decided to go to the boyfriends apartment. I got there, ate some buffalo chicken pizza (sounds gross but BANGIN I must say) laid down on the couch with him watching Big Daddy and low and behold we both passed out like lightbulbs haha. His room mate came home and woke me up and was like, "Jamie you looked dead" I must have been really tired for me to take a nap considering I NEVER nap. So afterwards, I decided I wanted to go buy some make up and left and went home haha. It was also snowing out and I didn't want to get stuck in the snow storm god forbid it got bad.
I went to Kmart and only decided on one Covergirl eyeshadow in aqua. I used to love Kmart, but now it seems like there collection has dwindled and ever since they got bought out by Sears, their prices have SKY rocketed. I love Wal-Mart though, they are still kinda high priced in cosmetics but alot cheaper than Kmart. I then decided to go down the road to Rite-Aid and to my surprise they were having a huge sale on cosmetics. For Wet N' Wild (for all you gals who don't think cheapy cosmetic brands like this one are worth the money, but I have to say that cheapy type brands are GREAT for people who maybe don't have the money to buy high end things. Trust me, you can get the same effect with the cheapy brands as the higher end brands so don't throw those to the curb) I have to say I started out with Wet N' Wild and NYC and Bonne Bell *haha member Bonne Bell? I don't even know if they still make anything from them!! Anyways, Rite-Aid was having a 99 cent sale on all Wet N' Wild cosmetics, so if your looking for a deal head on down to them. The only thing I will say about anything that has to do with Rite-Aid, CVS, or WalGreens is no matter what you find, you can find it so much cheaper. The only reason I went to Rite-Aid is because I didn't feel like driving all the way to Wal-Mart in the snow and my life is a little bit more important than any eyeshadow will ever be. (Even though it may not seem that way) haha. They were also having a sale on all Covergirl products with their buy one get one 50% off sale. So I eventually walked away with a lipstick, and an eyeshadow from Wet N' Wild and 2 eyeshadows from Covergirl. The eyeshadow I got from WNW (Wet N' Wild) was this pinky reddish color. Great for being by itself or maybe with a base color. I also got a lipstick called Café au Lait. That's what my review will be on today. From CG (CoverGirl) I got that emerald color from Kmart, a beautiful teal color which I am wearing today and I have to say GREAT color payoff, and a color quad in blues and one base color of white. They are all beautiful colors and best of all, it only cost me $9.00!! I'm always down for a deal and this was it so if you have an extra 10 bucks lying around head on down to your nearest Rite-Aid and see what you can find.
Here are some pictures of my shopping adventures, complete with the name of the colors.
The Wet N' Wild color is a beautiful pink shimmer called Fine Wink, number 250 on the containers when you go to the store.
Without flash..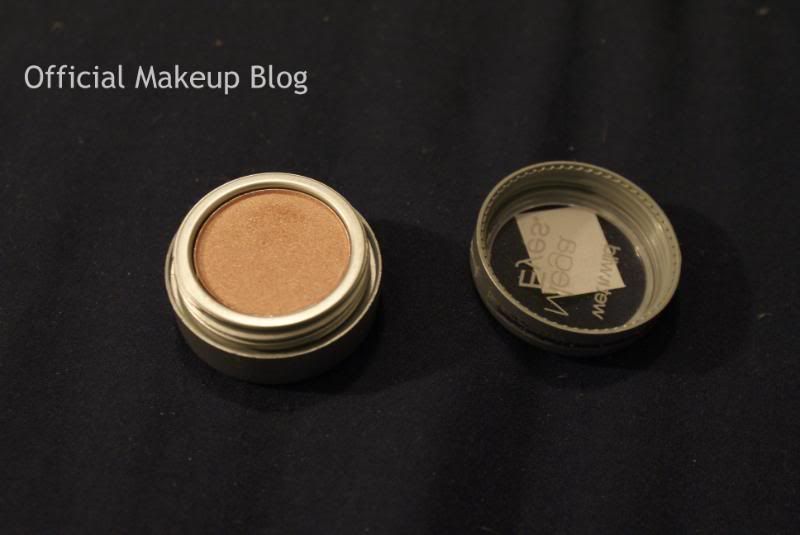 With flash..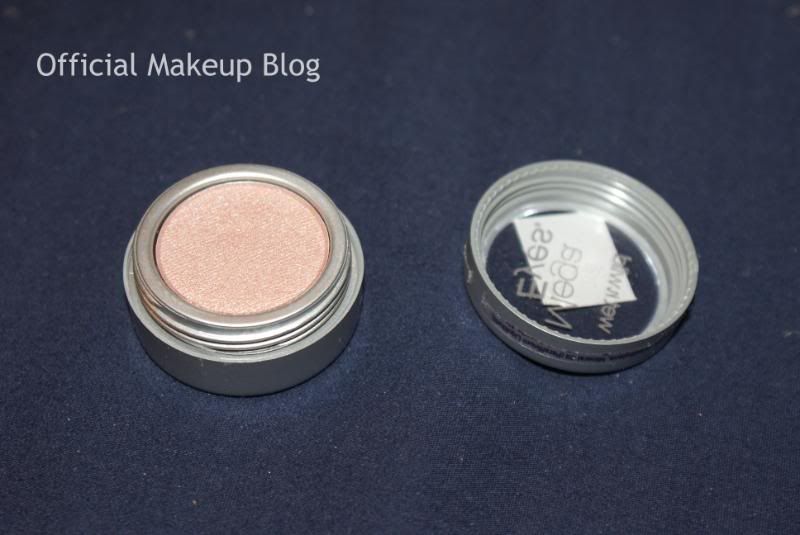 One of the colors from CG. This one is a eye enhancer with a nice shimmery look. The color is called Aqua Paradise. It's number 500. One thing I have noticed about CG eyeshadows is you should really use the sponge applicators they come with. They are very pressed so a nice soft eyeshadow brush really doesn't pick up alot of the product to get a good payoff.
With flash..
Without flash..
Here is the blue quad I also got from CG. This one is great for somebody who wants to try out some blues because they aren't to dramatic for someone who is a little new to trying out crazy colors. This one is called Crystal Waters and the number is 270.
With flash..
Without flash..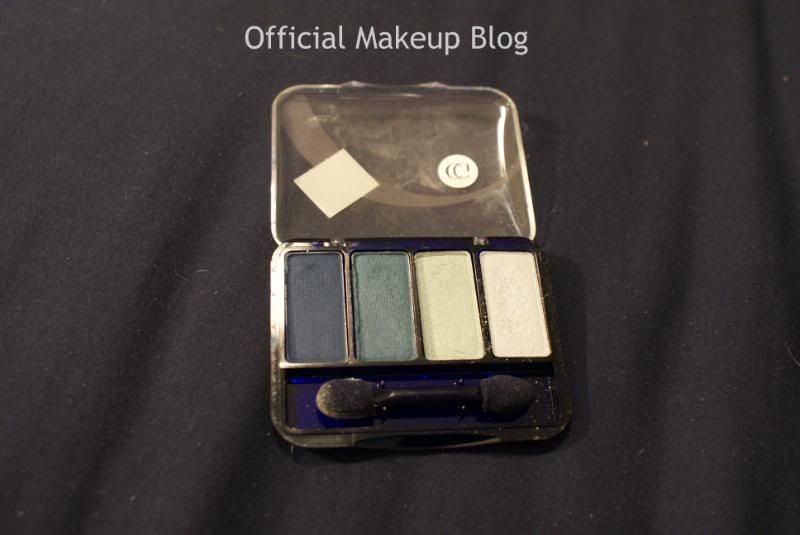 The lipstick without flash..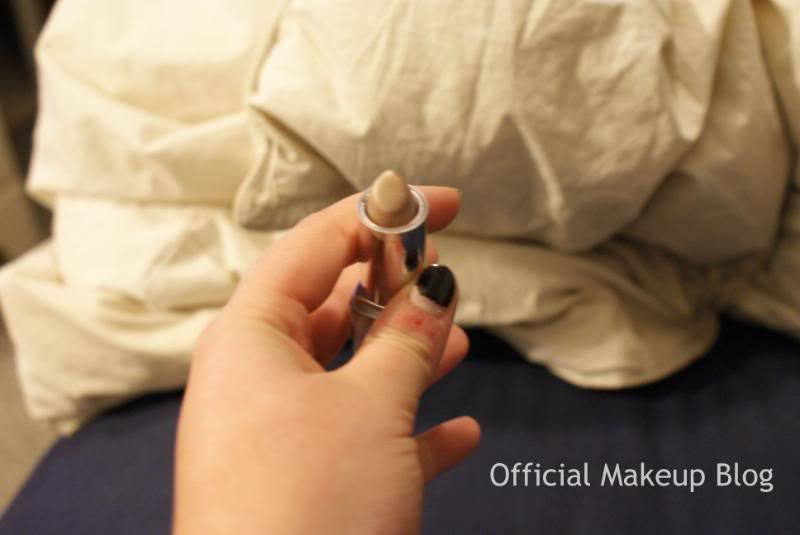 And with the flash..
And here is a picture of everything. For some reason I didn't take an individual picture of the teal color but the color is called Turqoise Tempest and its number 435. For some reason on the website they actually make it look like its a shimmery color, but in real life its actually more of a matte color. It has a little speck of shimmer in it but not much. So here is a picture of all the eyeshados minus the lipstick...
With flash..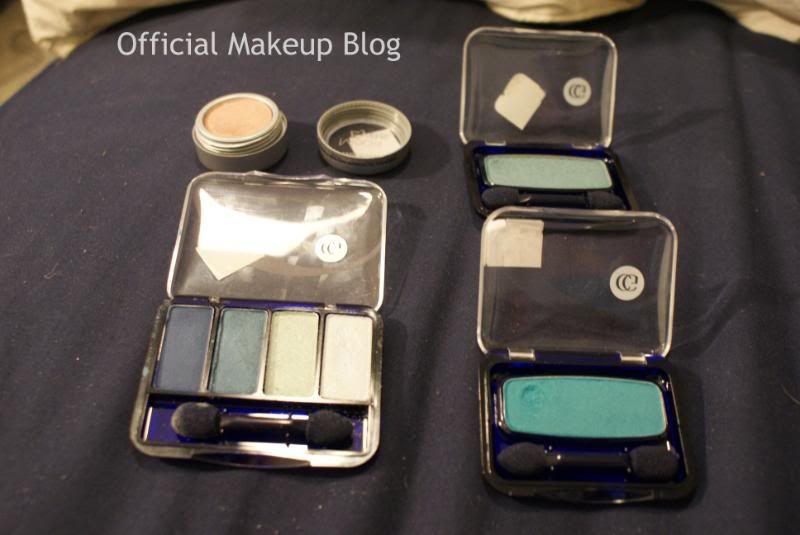 Without flash..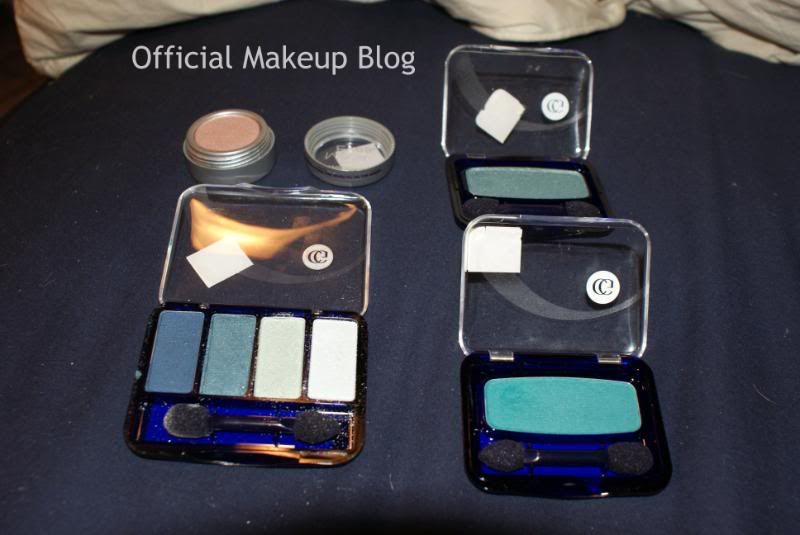 Now, with that said my review today is on the WNW lipstick. Now, I haven't worn lipstick in god knows how long. I think the last time I wore lipstick was 15 yrs ago when I used to go through my moms make up case and take all her hot pink (yes hot pink was still in style 15 yrs ago haha) or ruby red lipsticks and would put them on my lips and everywhere around my lips haha. I was never a fan of lipsticks because some of the drugstore brands (think L'Oreal, Revlon, Maybelline, etc) has that weird grandma smell to them. I would always buy them a couple years ago only to get home, open it, and have that smell hit me in the face and think I was next to my grandma all day. I would just end up giving the lipstick to my mom, which she would never use anyways but o well. Back then there really wasn't a return on cosmetics so I took my losses. Anyways, with that said, I decided that if I'm going to call myself a make up addict and have this blog for everybody to read, I need to expand my horizons and try different things to let all sorts of readers know what works, what doesn't work, and what is just not good to buy. So I went for it. I bought my first lipstick in god knows how long and I have to say, I LOVE IT. Now, this color looks GREAT in the container. It looks like a nude brownish color, with a little bit of a shimmer. It comes in this awesome little silver container with a see through top so you can see the exact color before you buy it. And best of all, it was only 99 cents!! Now, when I got home I immediately said hi to my mom and went into my room so I can sit down and do some swatches of my new eyeshadow. I also made sure I didn't have any stuff on my lips so I could put my new lipstick on. When I put it on, I was totally dissapointed. When it's on your lips it does kinda look like your a golden robot from year 2349. But, I went into action and found a clear lipgloss and put that over the lipstick. The color was FANTASTIC. It makes it look like a sheer nudey color on your lips. It is a great color. I will have to give this product a 4/5 only because if you happen to buy this color (which by the way is 908B to anyone that goes to a store and wants to look for the number) you will have to pair it up with a clear lipgloss to get a great color. By itself, people are going to think your from the future. Other than that, great lipstick!
****I am thinking about getting an actual host and buying a website to further this so I can also have sale forums for all the pigments and stuff I would like to sample out to you guys as readers, and things that I just bought and don't use. I know somebody out there has a use for stuff people don't need anymore so that will be it. Let me know if you would like any other ideas if I do happen to host out and get my own website for this blog. Thanks guys****
O, and I would really appreciate some emails, maybe some questions that I could answer, or things you would like me to cover. I can only think of buying so many things or talk about certain things so make to sure to email me. My email if it can't be found is
jlreding@snet.net
I will answer very promptly and all the time. Just make sure you leave an email I can reach you at, and a name, and please put "Make up Blog" as the title of the email so my spam bucket won't push you into the spam folder. Thanks so much girlies and guys!!!