So last night me and the boyfriend got into a huge fight, and he apologized and made up with me by bringing me to the new CVS that was just built down the road from my house. He only had $10 on him, but like any girl I can find a deal. We went in and I was AMAZED at how big there cosmetic/nail/hair aisles were. Like 10x bigger than any CVS I've ever seen in my life. So I knew I wanted to get a L'Oreal HIP Pigment in some sort of color but when I walked over I saw that L'Oreal was having a buy one get one free sale!!! I immediately took action and ended up getting 2 HIP eyeshadows. I was going to get the pigment but my boyfriend really liked the colors and since he was buying I couldn't turn him down. He has some say too since he has to stare at my crazy make up obsessed ass!! So anyways, I bought 2 eyeshadows.
I bought this color which is called "Showy" and is number 224 for anybody that is wondering.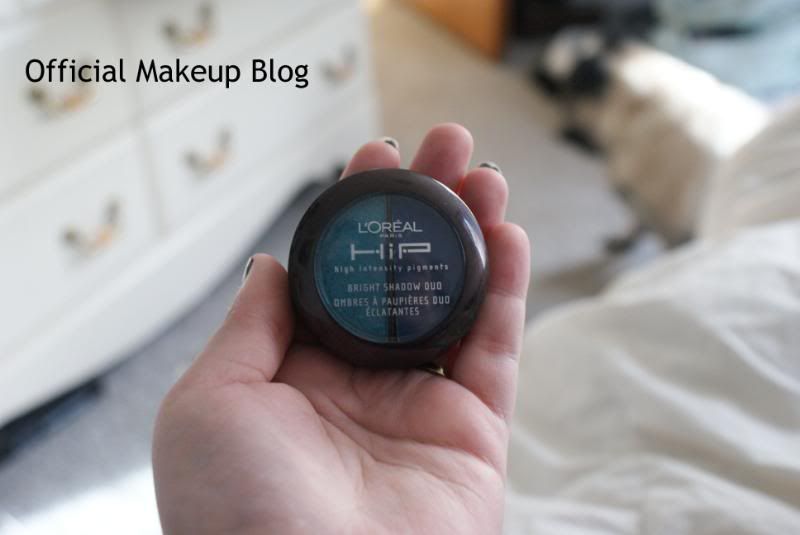 And this color which reminds me of the basketball team Lakers because the colors are literally gold and purple. The color is called Flamboyant (haha what a name!) and is number 538.
I really wanted to buy the new Eco-Tools make up brushes that came out. The stick is made out of bamboo and they are supposedly "organic" and really good for the earth. But when I got there since the CVS is still very new (it only opened 2 days ago) either they will never have them, or they weren't stocked yet because they didn't have any. They had a very nice mini set of Essence of Beauty brushes which I had my eye on, but held out until next time. So if anybody is on a budget and would like some make up, definitly hit up CVS!! For some reason every pharmacy I go to is having a good sale on certain brands. They probably thought, "hmm Jamie is on her way what the heck can we mark down for this girl so she buys more!!" haha. They probably don't think that but I wouldn't think twice either.
I just want to say that I also came home and tried one of the pigments in the color duo Showy and like the CG eyeshadows, you will definitly need to use the little brush that comes with it. For anybody that doesn't know, you don't actually see the brush but when you put the eyeshadow upside down, there is actually a little door that you open and it pops open with a little mirror and a sponge applicator in it. How conventient and so hidden!! Using the sponge applicator works 10x better than my eyeshadow brushes because I have such soft brushes that it wasn't picking up enough for my liking. I also have a GREAT look I am going to do with the darker showy color and the gold of the Flamboyant duo. I have an inspiration also and it actually came from my boyfriend haha. That look will be coming in a few days so get ready ladies!!