As I said yesterday, I hope everybody had an awesome holiday. I definitely did. I hope everything got what they asked for. I have been using my sister as a dummy for some different looks for make up and I think they are coming out very well. Once I get all the kinks out and think of some names for these looks I will definitely be posting them up for everybody to try out, along with pictures. I have about two so far, both very pretty. So be on the look out for those bad boys. Now, since this is the third post of this new blog, lets talk about our third must have.
My third must have is technically two, only because I'm not going to make two separate posts for these because they are two very tiny, but very important items that I use. The first would have a concealer stick. As of right now I am using Wet N' Wild (found at any Kmart or WalMart). I use this for only under my eyes. I think without it, my eyes look extremely dull even if I don't have under eye circles so I make sure that I always use this. It works great, and even though the brand I use is a cheaper one, it gets the job done. Remember, you don't need to spend thousands of dollars on make up and certain brands to make yourself look good. Even a 79 cent eyeliner will make you look fabulous.
My second (third) must have is MAC's eye prep and prime. I normally don't always wear this if I'm going out to run errands or going to work. I usually use this on maybe an eyeshadow that I bought that maybe doesn't hold it's color to good or doesn't last as long as I'd like. It's great to use, especially if your going somewhere for the night and need your eye make up to last. All I do is pat my finger a little bit and rub it onto my eyelid. That's basically it. Easy as pie. These two work great together especially when you really want your eyes to pop.
So, since this is my third post, you know the deal. What kind of concealer sticks do you use if any? How do you apply them? Do you wear them all the time? Let's talk about what kinds of brands everybody uses.
The concealer stick..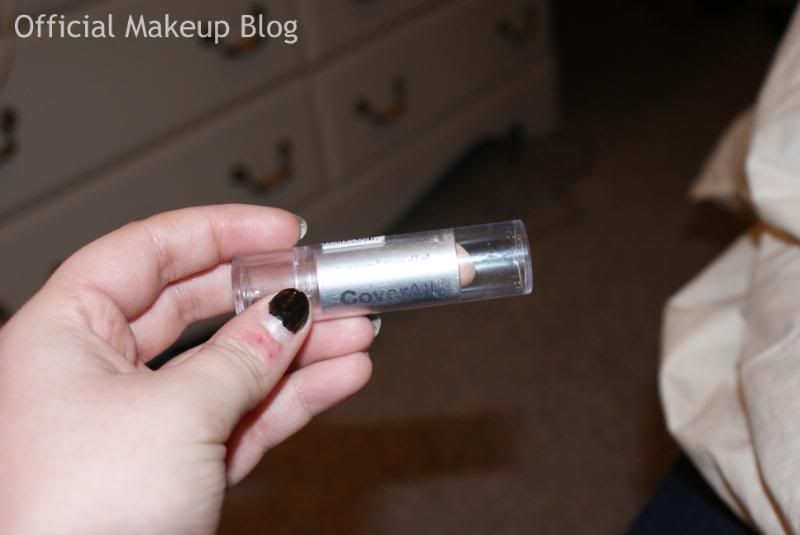 O and don't mind my fat pug peeking her head in these photos, she is by far the nosiest dog ever haha. I gotta love my Gingy Poo though.